April 24, 2010 — This is what yer kindly old Auntie Tild looked like in 2010. On a good day.
To elaborate a little re: the "no apologies" thing…
~~~~
July 11, 2009
Wow. Three years have gone by since I last updated this About page. Time for an update, don't you think?  Onward we plunge…
I am:
56 years old as of this date (July 11, 2009)
a mother of two, current ages 21 and 19
a US citizen of Norwegian and Swedish ancestry
not an adherent of any organized religion whatsoever
recipient of an Award of Special Merit, 1966 Twin Cities Latin Contest [for excellence in translating  excerpts from Julius Caesar's Gallic Wars commentary]
a graduate of Washburn High School, Minneapolis, 1969
a college graduate, having received a Bachelor of Arts degree from the University of Minnesota, 1973. major: Russian Language and Culture. minor: English
~~~~
Jobs I've had over the years include:
accounts receivable manager
anti-fraud services specialist
reader for Books On Tape/Communications Services, State of Minnesota
Currently employed full time at one of the jobs listed above.
~~~~
I'm a published author. Doesn't that sound quaint? That's what we said back in the day before the rise of the intertubes: "I am a published author." It means that somebody bought some stuff I wrote and then printed it on paper and then packaged the paper in various ways for sale to the public. I've had about a dozen items published in this way, including magazine articles, commentary, short fiction, poems and parodies. My biggest single payday to date was in 1998 when Entertainment Weekly paid me $600 for 400 words. Nice work if you can get it.
~~~~
I was a contestant on Jeopardy! in 1993.  Second place.  Missed Final Jeopardy! question (The answer was Brazil.  D'oh!)  Lovely parting gifts included a week at a resort on St Thomas, Centrum Silver vitamins, Klondike ice cream bars, Lee Press-on Nails and some kind of haircare products. Yep, Alex Trebek was very friendly and humorous. Yep, it was a lot of fun.
~~~~
I am an aficionada de primera. Among other things, that means that when I step into the bullring I go by my official nom de taureau
Sesitos de Tapioca de Eden Prairie
(Little Tapioca-For-Brains of Eden Prairie)
Yes, you are correct: I am completely sinverguenza
~~~~
Here's a conveniently blurry photo of me from May 2, 2006: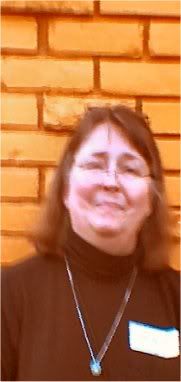 And here's a photo taken just a few days ago, July 8, 2009, that's been transformed into a watercolor portrait (thanks, Snap Art!)
And you wonder why I'm called "Teh Fabulous" Tild?!
~~~~
If you also wonder what's the deal with the name "Tild", click on the following link and all of your questions will be answered:
~